After the success of his recent indie hits "Baaton Baaton Main" and "Awaara Ho," Shashwat Sachdev worked with one of the most famous indie musicians of our time, Prateek Kuhad, on "Kaisi Jaadugari," the last one on his album "SHA" with IndieA Records.
"Kaisi Jaadugari" is a song about how that magical you get when you find the person you are meant to be with. This beautiful love song was written, produced, and put together by Shashwat himself. Prateek Kuhad's mesmerizing voice and the prominent guitar chords turned it into a soothing, serene composition.
Both Shashwat Sachdev and Prateek Kuhad are big fans of music with unusual arrangements and lyrics that inspire deep thoughts and warm, fuzzy feelings. A fact that's clear from "Kaisi Jaadugari," which is a great example of how well the two artists work together.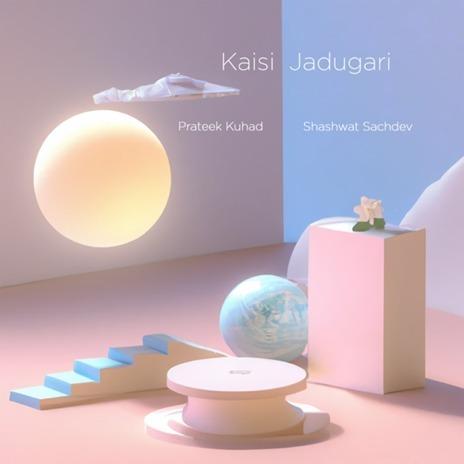 Shashwat Sachdev went on to share his thoughts on music, 
" Imagery is a very important part of my poetry and music. The song is a personal song that I wrote and composed a long time ago. Prateek Kuhad is a name that everyone knows but as a composer I realise every time I work with him that he is one of the best and most proficient musicians in the world. His singing is effortless and his accompanying guitar skills are comparable to the greats. This is a single time performance capture in that it is with him singing, performing and finger picking his guitar in the studio in a single take. That's exactly what you hear.  For me it's an interpretation of a string quartet playing romance and Prateek singing parts of a violin." 
The release of "Kaise Jaadugari" got Prateek Kuhad saying, 
"Shashwat and me go way back, we actually have known each other since Jaipur! We worked on this song almost a decade ago in his studio in Mumbai when we were both kind of starting our journey in music and it's crazy that it's finally out. He's a really talented artist and Kaisi Jadugari is such a sweet song."
About IndieA records
Universal Music India launched IndieA Records, a new platform for country's independent music artists to showcase their talent to a wider discerning audience.
An artist-first platform, IndieA Records is dedicated to actively discovering a wide range of music from independent artists across all genres and languages and bringing their work to a wider, more discerning audience through strategic partnerships & distinctive marketing. The label's inception came with a rise in the independent music scene in India, which has seen a surging shift in music consumption habits and listener preferences in recent years. IndieA Records is in the process of banking an enviable repertoire of fresh indie music from both established and emerging artists. The songs will be promoted differently through intimate on-ground events and live gigs, strategically targeted to relevant audiences who have an affinity for such varied indie music.