Behind every popular song lies a captivating story of inspiration and creation. One such intriguing tale revolves around the iconic Bollywood track, "Kala Chashma." Surprisingly, this chartbuster was originally written by a police constable while standing at a chowk (intersection). Let's delve into the fascinating origins of this song that captured the hearts of millions and became an integral part of pop culture.
The Unlikely Wordsmith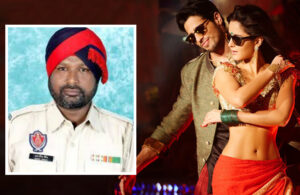 In a serendipitous twist of fate, Amarinder Singh, a police constable stationed at a busy chowk, found himself immersed in the rhythm of life around him. Inspired by the vibrant energy of the surroundings, Singh's creative spirit was ignited, and he began penning lyrics for what would later become the hit song "Kala Chashma." Little did he know that his words would transcend the boundaries of his humble profession and leave an indelible mark on the music industry.
The Journey to Stardom: Singh's lyrics caught the attention of music composer duo Amar Arshi and Kam Dhillon, who recognized the immense potential in his words. They collaborated with him and transformed his poetic verses into a foot-tapping Punjabi track. The song made its first appearance in the Punjabi music scene and garnered widespread acclaim for its catchy beats and infectious energy.
Bollywood's Embrace
The popularity of "Kala Chashma" soon caught the attention of Bollywood filmmakers, leading to its inclusion in the soundtrack of the 2016 film "Baar Baar Dekho." Sung by Amar Arshi and Neha Kakkar, the revamped version of the song featured in the film's promotional material and struck a chord with audiences worldwide. The fusion of Punjabi beats with Bollywood aesthetics proved to be a winning combination, making "Kala Chashma" an instant sensation.
Impact and Legacy
"Kala Chashma" became a cultural phenomenon, dominating music charts, dance floors, and social media platforms. Its catchy hook, energetic choreography, and memorable lyrics became synonymous with celebration and joy. The song's immense popularity inspired countless covers, dance performances, and recreations, solidifying its status as a modern-day classic.
The story behind "Kala Chashma" serves as a testament to the creative potential that lies within everyday life. Amarinder Singh's journey from a police constable at a chowk to a celebrated lyricist showcases the power of inspiration and the ability of music to transcend boundaries.
This tale serves as a reminder that artistic brilliance can emerge from the unlikeliest of places, capturing the hearts of millions and etching its place in the annals of musical history. So, the next time you groove to the infectious beats of "Kala Chashma," remember the police constable who penned its lyrics while standing at a chowk, forever leaving his mark on the world of music.