Mumbai, July 20th – Raga2Rock Magazine is thrilled to announce the much-awaited release of "Ghoome," an exhilarating new pop sensation by the exceptionally talented musician, Vismay Patel. This infectious track is all set to enthrall music enthusiasts with its catchy melodies, empowering lyrics, and a message that urges listeners to break free from societal norms and embrace their true selves fearlessly.
Song link – https://youtu.be/56Gr-VwLssU
"Ghoome" stands tall as a vibrant anthem, celebrating the sheer joy of breaking down barriers and finding delight in life's simplest moments. Vismay Patel, renowned for his distinct musical style, has masterfully crafted a song that strikes a chord with the deepest desires of his audience. With infectious beats and energizing rhythms, "Ghoome" offers an electrifying experience that will undoubtedly have listeners moving and grooving in no time.
This pop masterpiece serves as the perfect companion for those seeking an escape from the ordinary and a soul-stirring soundtrack for their journeys. Whether you're embarking on a road trip, exploring new horizons, or simply looking for a dose of positivity, "Ghoome" will be your ultimate mood-lifter, setting the tone for an unforgettable adventure.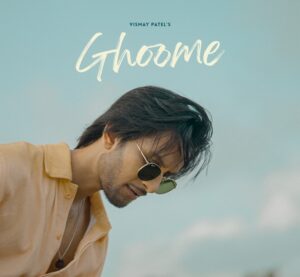 Vismay Patel's ability to seamlessly blend his unique musicality with thought-provoking lyrics sets him apart as a true maestro in the pop music scene. Through "Ghoome," he extends an invitation to his listeners to liberate themselves from the shackles of societal expectations, embrace their individuality, and revel in the freedom that comes from being true to one's essence.
In his own words, Vismay Patel shares,
"With 'Ghoome' I wanted to create a song that not only entertained but also inspired people to let go of constraints and live life on their terms. Everyone has tough times in their lives, reasons could be any. But let's celebrate the small joys that make life beautiful, and this song is my way of encouraging others to do the same. I hope it becomes a source of inspiration and a reminder to embrace our uniqueness."
About IndieA Records: Raga2Rock Magazine also takes this opportunity to shed light on IndieA Records – a groundbreaking platform launched by Universal Music India, dedicated to promoting the incredible talent of independent music artists across the country. Functioning as an artist-first platform, IndieA Records actively seeks out a diverse range of music from independent artists spanning all genres and languages, ensuring their work reaches a wider and discerning audience through strategic partnerships and distinctive marketing efforts.
The emergence of IndieA Records aligns perfectly with the surge in India's independent music scene, which has witnessed a considerable shift in music consumption habits and listener preferences in recent years. This platform is diligently curating an enviable repertoire of fresh indie music from both established and emerging artists. To complement this endeavor, the label employs intimate on-ground events and live gigs, strategically tailored to resonate with audiences who have a genuine affinity for such diverse indie music.
With "Ghoome" taking center stage, Vishmay Patel and IndieA Records continue to uplift and celebrate the spirit of self-expression and liberation, empowering music lovers to embrace their true selves and groove to the rhythm of life. Don't miss out on this captivating pop journey – experience "Ghoome" now! Click here: